Snowflakes and Memories has arrived!
There is nothing more exciting than watching those first few flakes of white as they dance across the sky. Nothing, that is, except perhaps those last few days before Christmas. Memories of snowfalls and holidays spent with family and friends seem to brighten our lives, even when bittersweet. Their magic and joy bring happiness throughout the year. Join twenty authors from around the world as they share stories and poems to warm your heart and hearth this holiday season and the whole year through.
Featuring the talents of Adele Kenny, C J Clark, Carl "Papa" Palmer, Chantal Bellehumeur, Dee Stribling, Gail Fishman Gerwin, James Penha, Julia Rose Grey, Linda Radice, Mac Greene, Maureen Ellen O'Leary, Nancy Walker Benjamin, Nancy Werking Poling, Pat LaPointe, Patricia D'Innocenzo, Patricia Wellingham-Jones, Van G. Garrett, William Wortman, Jr., Patrick Durham, and April J. Durham.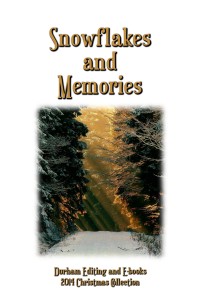 The 2014 Durham Editing and E-books Christmas collection Snowflakes and Memories is now available in both print and digital formats.
Print Edition:
Createspace: https://www.createspace.com/5118647 
Amazon: http://www.amazon.com/Snowflakes-Memories-Durham-Editing-E-books/dp/1503323986
Barnes and Noble: http://www.barnesandnoble.com/w/snowflakes-and-memories-durham-editing-and-e-books/1120814505
Digital Editions:
Smashwords: https://www.smashwords.com/books/view/494847
Amazon: http://www.amazon.com/dp/B00PXB86FM
Grab your FREE digital edition through Smashwords through December 13, 2014. Coupon Code: QQ98S