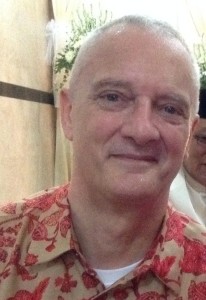 For National Poetry Month's featured author, Durham Editing and E-books has reached around the globe to target the unique writings of James Penha. We have had the pleasure to work with James on Summer Shorts II: Best Kept Secrets, It's About Living, and Snowflakes and Memories.
A native New Yorker who now makes his home in Tangerang, Indonesia, James Penha is a poet, fiction writer, and teller of tales. He has been nominated for Pushcart Prizes in fiction and in poetry. Snakes and Angels, a collection of his adaptations of classic Indonesian folk tales, won the 2009 Cervena Barva Press fiction chapbook contest; No Bones to Carry, a volume of his poetry, the 2007 New Sins Press Editors' Choice Award. His earlier chapbooks of poetry were Greatest Hits (Pudding House: 2001) and On the Back of the Dragon (Omega Cat Press: 1992). James also edits The New Verse News, an online journal of current-events poetry.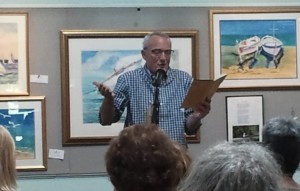 A member of the Poetry Society of America, Poets and Writers, the Academy of American Poets, and THEMA Literary Foundation, James is a newly-retired literature and writing teacher who works steadily on his own online journal, The New Verse News. We were glad to have James Penha take time out from his busy schedule to tell us a little about his writing practices, inspirations, and his unique take on what makes a poem.
When did you first start writing?
In the fifties and sixties, I was educated in great New York City public schools where teachers encouraged creative writing and rewarded students willing to post and perform their pieces. Having my stories spread out on bulletin boards . . . reading my poems at assemblies . . . these educators encouraged me to seize freedom and the confidence to write not just for myself, but for audiences.
Where did you grow up, and how did it influence your writing?
I still identify myself as a New Yorker; the City's invitation to make choices from all it offers made me who I am in so many ways, literary and personal. My high school and college friends and I did not spend much time on basketball courts or baseball diamonds. We visited the great Manhattan bookstores of the era—Scribner's, Brentano's, Doubleday—to grab books and magazines and pieces of floor and read to each other. We walked Central Park to imagine where Holden Caulfield sat watching the ducks. And we heard great writers reading their works in cafes and galleries. Yes, writing is a solitary occupation, but literature in New York has always been an event.
Where do you write? Describe this area for us.
At home in a suburb of Jakarta, Indonesia, with windows opening on the garden is my office. That's where the laptop and the printer and my books reside; I work at the desk here to revise and perfect drafts. But I tend to draft poems and rough out stories by hand in notebooks (or sometimes on the iPad) away from the desk . . . in the garden . . . or, most frequently, on location as I travel.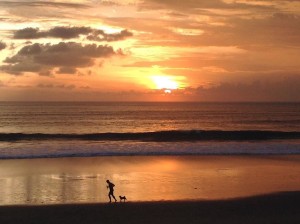 When you aren't writing, how do you spend your time?
After a forty-five year career teaching literature and writing at universities and secondary schools in the U.S. and Asia, I am newly retired this year and so am writing more rather than less than ever before. When not writing, I spend hours reading poems and stories, listening to them, watching them . . . and, always, dreaming them up . . . especially while traveling the islands of this amazing archipelago.
What inspires you to get out of bed each morning?
At my age, just waking up is inspiration enough to see me through the day! But then I have always been a morning kind of guy. I can't wait to have my first cup of coffee, feed and walk the dog, see what birds and butterflies are poking around the garden.
What are your five favorite books, and why?
When novelists are asked which of their own books their favorites are, they typically say, "The last one" or "The next one." I'm that way with all my favorite books because great new ones not only teach me something about life, they reinvent literature and so influence me holistically. So let me name three recent books that knocked me out: in Brewster, the novel by Mark Slouka, the politics and culture of its setting subtly underscore the profound dramas in the lives of its protagonists; Claudia Rankine's Citizen: An American Lyric—which won the National Book Critics Circle Award for Poetry on the very day I am answering this question—is not at all subtle in its politics and culture and just as boldly defies definitions of literary genres; in Helen MacDonald's H is for Hawk, one can witness, in the gossamer helixes of its structure, narrative nonfiction evolve.
My two canonical favorites are Hamlet and Heart of Darkness because they contain everything there is to know about literature; I have yet to plumb it all.
Tell us a little about The New Verse News.
In the months and years following 9/11, I found myself writing more and more poems objecting to U.S. foreign policies and adventures and to what I saw as a frightening disregard, in instruments like the Patriot Act, for the American tradition of rights and liberties. But because of the lag time between submission and publication for most literary journals, and given their general disdain for political poetry, I saw no possible outlet for such newsy verse . . . unless I established one. Beginning in February 2005, www.newversenews.com solicited from writers around the world poetry as current as the day's headlines. Soon we were receiving enough good material to post one new poem per day by well-known writers as well as unknowns. What all our writers share is a passion for progressive politics, the environment, human rights . . . and poetry.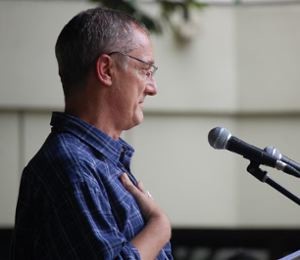 How does writing poetry differ from writing prose?
I'm glad you didn't ask me the difference between poetry and prose. My answer to that would be as full of conditions as to make it unbearably long and, likely, absurdly reductive. But I can explain how writing poetry differs from writing prose quite simply: to write poetry one must worry about every word. One must cut any word that undermines the whole. Each word that remains must be just the right one to move the reader. The goal of a poem, after all, is not just the transference of understanding or empathy. A poem seeks to create or recreate an experience in—not for, in—the reader. To accomplish this miracle, no word can mislead . . . unintentionally.
If a piece of prose is short enough to allow its writer to worry over each word in this way, it deserves to be called a poem.
What is the best writing advice you can give another writer?
1. Listen to what you write. If you can't hear it in your head automatically, read your drafts out loud and listen to your sentences, your rhythms, the way your narrators, speakers, and characters talk.
2. Have a few gimmicks to force major revisions. My own favorites: Question why any sentence written in passive voice shouldn't be more active. Search out every adjective-noun and adverb-verb combination to wonder if it can be replaced by a more precise noun or verb that does not require modification.
What are you working on now?
Having just finished two long stories and a series of ekphrastic poems, I am about to get to work on a new story based on an ancient Chinese legend. And, of course, I work on The New Verse News every day.
You can find out more about the very talented James Penha and his works at:
http://www.jamespenha.com
@jJamesPenha
http://www.newversenews.com
http://www.amazon.com/James-Penha/e/B001JS1CP4
http://www.thelostbookshelf.com/p.html#JamesPenha
http://www.origamipoems.com/poets/18-james-penha
Our April Featured Author – James Penha