Durham Editing and E-books is proud to present our October Featured Author, Chantal Bellehumeur. A Canadian native who currently lives in Montreal, Quebec, Chantal has worked with us since her first submissions in Aspiring to Inspire, our 2014 Women Writers' Anthology. Bellehumeur has contributed her wisdom and quick wit to each successive collection.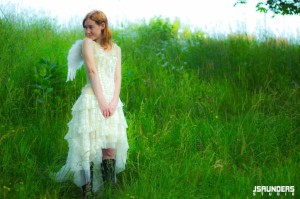 Chantal is a multi-genre author who has had a lifelong love of writing. She says that in her youth, she used to staple pieces of paper together to form books. Spending many years in acting, Bellehumeur performed in amateur stage shows, joined a youth-run theatre company, and was an extra in commercials, television shows, and movies. Chantal met her current boyfriend while they were both working on the set of Martin Scorsese's The Aviator. After her son was born, motherhood became her top priority. Bellehumeur began writing in her spare time, and her acting training helped her to, as she says, "put herself in the shoes of the characters" that she created.
Chantal keeps a travel journal and often uses those experiences in her stories. As a memoirist, Bellehumeur has written on motherhood, her best friend and their long distance relationship, and her boyfriend. After a diagnosis of colitis, Chantal had an article on the experience published in The Suburban.
Along with pieces appearing in multiple anthologies and compilations, Bellehumeur has ten books available through various distributors. Since her writing spans so many genres, Bellehumeur has stories that appeal to a wide range of readers, from feel-good stories to spine-tingling tales of murder and mystery. Her family-oriented short stories, originally published in The Suburban online magazine, are now available in a compilation. Chantal has also created two groups, Book Sales and Giveaways and Book Reviews, that she welcomes readers to join and take part.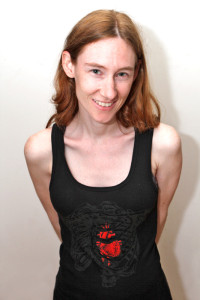 Join us for this engaging interview as we follow Chantal's influences, her favorite places to write, and her dearly departed laptop.
When did you first start writing?
I`ve been writing since I learned how but never thought about publishing anything until a friend of mine told me I should. This was in 2009, after writing my fictional novel Veronica's Soap Opera Life. Two other books in the series followed, as well as the original publication of my horror novel Just.Another.Common.Killer, and I have not been able to stop writing. I actually get headaches if I don't write my ideas.
Where did you grow up, and how did it influence your writing?
I was born in Mississauga, Ontario, and moved a lot. I grew up mainly in Toronto and then Ottawa. Those cities did not really influence my writing. My travels did, however.
Where do you write? Describe this area for us.
I write in my living room. My laptop is (sorry, was, since it recently died, and I have to buy a new one, R.I.P) set up on a wooden fold-out desk which I drag close to the couch so that I may sit comfortably. I usually have a body pillow behind my back, plus a beverage and a snack which I usually forget about.
When you aren't writing, how do you spend your time?
I try to spend as much time as I can with my son (a teenager who is now taller than I am!) or boyfriend, mainly watching movies or playing games. When I have some alone time, I enjoy reading. I am a very creative person, so I like to do arts and crafts as well. I used to paint abstract stuff. I like modeling for fun as well.
What inspires you to get out of bed each morning?
Some mornings are tough, especially when it is cold. My main motivation is my son.
What are your five favorite books, and why?
I always loved the story of Romeo and Juliet because I used to find it so romantic. I enjoyed Princess Bride for the same cheesy reason. I liked Bridget Jones's Diary because the character felt real, and I could sort of relate to her. On a darker side, I liked the Hannibal Lector series because of the psychology behind the character.
What is the best writing advice you can give another writer?
Constructive criticism can help you improve your work, but don't pay too much attention to critics and bad reviews. Write for those who enjoy reading your work and, most importantly, yourself. Never give up! Write every day, even if it is just about a simple occurrence in your life, your dream, or a nightmare, because practice makes perfect.
Which piece is your favorite piece you have written?
That is a tough question. I am a multi-genre author, so I like three for different reasons:
1) my horror novel Just.Another.Common.Killer because I love scaring people for fun and now like to see or read people's reactions to the book,
2) my feel-good book Not Alone because it made me realize that I was not alone while writing it and helped with my own feeling of depression, and
3) my memoir of motherhood because I managed to immortalize my son and keep the memories alive.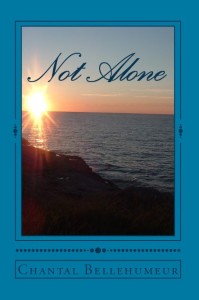 Can you tell us a little about your Special Edition: Just.Another.Common.Killer?
I received a lot of positive feedback and reviews for the original publication yet found that my publishers had priced the book too high. Several people politely mentioned that they were not buying it because they found it expensive. So, I decided to republish the story independently at a lower price AND include a bonus story that was running through my mind.
Here is a summary of the book, which can be purchased on Amazon as a paperback or Kindle:
Under hypnosis, six-year-old Jack Huntington tells his psychiatrist the dark unsolved tale of Jack the Ripper's nineteenth century murders. Because such details are given, Dr. Philips begins to believe that his patient might have been the Ripper himself in another life. When the boy fails to give him any information that would reveal the identity of the White Chapel killer, Dr. Philips ridicules himself for having thought the impossible.
Years after killing his sisters while he was sleepwalking, Jack is claimed normal and able to re-enter the real world. He is released from the mental institution to start a new life, but he slowly starts to act upon his killer instincts and begins to remember events that happened over one hundred years ago.
Jack is ready for new games!
This special edition contains bonus material, including the new short story "Mary Kelly's Diary."
View the book trailer here: (Make sure to turn off the lights and turn the volume WAYYYYY up!)
On a side note, I will be holding an online release event on Saturday October 4th. Prizes to be won! Here is the link to the event.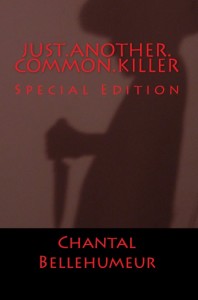 (Chantal Bellehumeur and her horror book Just.Another.Common.Killer (Special Edition) were featured in the September 26 issue of The Suburban Online Magazine. Here is the direct link to the magazine page. Good until October 3, and then the magazine will be archived.)
What are you working on next?
I have the first draft of a story called "Timmy's Wish" and need to find the time to polish it up. I am hoping that it will be included in the Durham Editing and E-books' Christmas anthology. I am also in the final stages of completing my novella Really Not Alone, the sequel to my feel-good book Not Alone. The manuscript is currently in the hands of my proofreader. I plan to release the book in 2015.
We want to thank Chantal for taking the time to give us a little insight into her writing. For more information on this author, please visit the links listed below.
Author's Website: http://author-chantal-bellehumeur.webnode.com/
Facebook: https://www.facebook.com/pages/Chantal-Bellehumeur-public-author-page/347446362035640
Twitter: https://twitter.com/c_bellehumeur
Book Trailers: https://www.youtube.com/user/chantalbellehumeur
Available books: http://www.amazon.com/-/e/B008YX5YGK
Request digital autograph:  http://www.authorgraph.com/authors/c_bellehumeur
Goodreads: http://www.goodreads.com/author/show/4538804.Chantal_Bellehumeur
Our October Featured Author- Chantal Bellehumeur