We invite you to celebrate National Poetry Month with the release of Words of Fire and Ice. This amazing collection of amazing authors has already hit #1 on the Poetry Anthologies and Multi-Author Poetry Anthologies Bestseller List on Smashwords. Yay! The book has also reached #42 on the Amazon Poetry Anthology Bestseller List. Woohoo! We are so proud!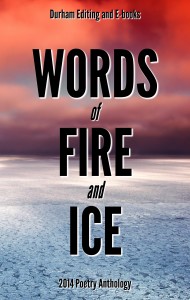 About Words of Fire and Ice:
Lose yourself in the full range of human emotions. Happy, sad, up, down: you will soar through the sky and plummet into the deepest despair, all through the words of fire and ice contained in these pages. As you read, you will become wrapped in the magic that is poetry. Breathe in the words, and share the raw emotion captured on paper, written in blood, sweat, and tears.
Poets featured in this collection include Patricia Frolander, Myra Biernat Wells, Robin A. Sams, Pamela Merriott, Carl "Papa" Palmer, Nicola J. McDonagh, Sherri Wright, Patricia D'Innocenzo, Judith G. Osborne, Rosemarie Czarnoska, Ryan Abram, Chantal Bellehumeur, Diane L. Lewis, Muesser Yeniay, Mellissa Black, Geoffrey A. Landis, Joan M. Roberts, Julie Lovett, Natasha Turner, Queen of Spades, Patrick Durham, and April J. Durham.
Please enjoy a free copy on us at Smashwords.com.
Smashwords: https://www.smashwords.com/books/view/430392
Promotional price: $0.00
Coupon Code: KC89W
Expires: May 6, 2014
You can also find the e-book copy on Amazon:
U.S.: http://www.amazon.com/dp/B00JU7WTXK
UK: http://www.amazon.co.uk/gp/product/B00JU7WTXK?
Grab your print copy on Amazon or Createspace:
https://www.createspace.com/4770914
http://www.amazon.com/Words-Fire-Durham-Editing-E-books/dp/1499215088/
Celebrate National Poetry Month