It's Women's History Month, and what better way to celebrate women than by featuring an accomplished woman writer. This March's Featured Author is Cathy Adams, an American author who currently resides in Xinzheng, Henan, China. We had the pleasure of working with Cathy on our fall collection in 2014, Autumn Magic, which featured her short story "Halloween Candy."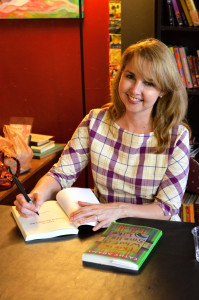 Cathy earned her MFA in Creative Writing from Pacific Lutheran University's Ranier Writing Workshop. Her first novel, This Is What It Smells Like, was published by New Libri Press in Washington. She has been published in Blue Monday Review, Tincture Journal, AE: The Canadian Science Fiction Review, Shooter Literary Magazine, Santa Fe Writers Project Journal, Best New Writing, Portland Review, The River and Sound Review, Steel Toe Review, and numerous other journals and magazines. Her story "Asphalt Chiefs" has even been nominated for the 2015 Pushcart Prize for short stories.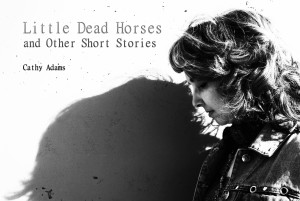 We had the opportunity to catch up with Cathy and discuss writing, reading, and the amazing ability to perceive reality through smell.
When did you first start writing?
I completed my first creative writing project at age six, a play with two characters and five lines of dialogue about going out for dinner. It played a limited engagement of about ten seconds in my first grade classroom. My second play, a comedy written in the third grade, was banned before production because it contained the words "Nazi" and "Raquel Welch," subjects my teacher felt were inappropriate for children's theatre.
Where did you grow and how did it influence your writing?
I grew up in Alabama and was introduced to great southern writers such as Flannery O'Connor, Carson McCullers, and Eudora Welty when I was a freshman at Jacksonville State University. When I read my first Eudora Welty story, "Why I Live at the PO," I felt I had discovered an amazing treasure that I had been missing out on all my life. All three of these writers explored the nuances of southern identity in a way that is unsentimental and unflinching. It's honest and hard and real. Not always pretty. I admire that forthright examination of culture and try very hard to tap into that vein in my own writing. Sometimes I succeed.
How has living and writing in China influenced your writing, if at all?
Oddly, many years before I had any inkling I would end up in China, I wrote two stories about Chinese people living in the south. Both of those stories were published after I moved to China three years ago. So, perhaps my fate has always been tied to Southeast Asia in some way. What I see here in China are people who are basically just like Americans, and in some ways just like southerners. They are just ordinary people who love their families and want a good job so they can live a comfortable life. China has a deeply rooted sense of community, and I think we have the same in southern culture.
Where do you write? Describe this area for us.
My husband, a professional photographer, and I live in a two-room apartment, a bit of a luxury for our area of China. I write on my sofa that faces a wall covered in my husband's photographs of places we've visited. It's easy to leave in my mind if I need to escape.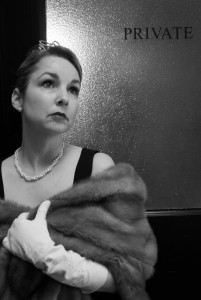 When you aren't writing, how do you spend your time?
I spend a lot of my time reminding myself to be nice to people because my default position is not to always be nice. My fantasy would be to be able to say what I'm really thinking for one full day, to be completely and utterly honest in my responses to everything that is said to me. I'd probably be deported. All the personality tests I've ever taken put me on the extreme end of introversion, probably a good place for a writer to be. I find myself tensing up around other people and wishing I was back on my sofa doing stuff like writing this.
What inspires you to get out of bed each morning?
Knowing that I can get back in it that night. Really, I'm a manic goal writer. I have lists of things that I must do each day, and I get a strange kick out of ticking them off. I get out of bed thinking of stuff that must be accomplished. That sounds depressing to write it down. Maybe I should make a goal to write fewer goals.
What are your five favorite books, and why?
The Arsonist's Guide to Writers' Houses in New England by Brock Clarke. The narrator is maddeningly self-destructive and darkly funny in a way that made me wish I had written that book.
To Kill a Mockingbird by Harper Lee. Lee got it. She really got what was wrong with southern culture in the early 1960s, and she spoke it on every page.
The Secret History by Donna Tartt. I really wanted to hate this book because everyone blathered on so about its perfection, and I was terribly jealous. The book turned out to be quite good, so I had to admit the praise was deserved, and my jealousy had to rot.
The Heart is a Lonely Hunter by Carson McCullers. There are scenes in this book that made me have to put it down and breathe, the connection was so great.
To the Lighthouse by Virginia Woolf. She was a trailblazing writer who could take the reader into a stream of consciousness lasting only ten seconds in real time but it might take ten pages of reading to get there.
What is the best writing advice you can give another writer?
Don't write for money. You will almost certainly not make any. If you are truly a writer, you will do it because you cannot not write.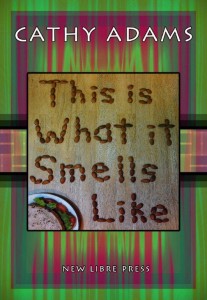 Tell us a little about your book This Is What It Smells Like.
The title has to do with the main character, Val, who has the ability to perceive reality through smell. She knows if a person is lying, what day of the week it is, or what someone is thinking because she can smell it. But like most works with magical realism threaded into the plotline, it is not what the story is about, it's just one of the ways she copes with life.
"My mother gave birth to me because she wanted someone to fix her a sandwich." This is how the story begins, with Val's strained view of her existence with her mother.
At age twenty-four Val has never met her father, Ray. Now he asks to return to her North Carolina home so that he can meet her and die in peace. When he shows up with the step-son no one knew existed and his pet gecko, Val wants nothing to do with either of them, but Tess, her drug-addicted mother, is ready to bring everyone together in one big dysfunctional family.
Val sniffs out a decades old secret between her mother, the brooding priest who has been spying on her from his office window at Edgar Allan Poe College across the street, and the dying father she knows only from old photographs.
The story is funny in a dark way that makes you cringe sometimes, much like a Wes Anderson movie. In fact, I think he should make this into a movie.
The book is available at Amazon.com and Barnesandnoble.com in electronic format (only $2.99) and paperback.
 What are you working on now?
Two chapters from the novel I am almost finished revising, A Body's Just as Dead, have already seen publication and an award. One chapter received the Editor's Choice Award in the Best New Writing competition for 2015. Steel Toe Review, a literary journal based in Birmingham, Alabama, published another chapter as a short story, "Daryl and Pete-O Go to Walmart."
My hometown in Alabama inspired the fictional setting for the Boyd family struggling to make it in a world that once embraced the man who lived by the pull-yourself-up-by-your-bootstrap motto. Now he finds that the world is dying, and no matter how hard he tries to take care of his family, he is economically squeezed such that he must take desperate measures for survival. Everyone, from the mother who tries to keep everyone together with Sunday dinners and vitriolic warnings about "acting right" to the overlooked, quiet teenage son who knows there must be something better somewhere far away, is trying to find a niche in an American Dream that is unraveling before them.
You can read Cathy Adam's essays at: https://www.tumblr.com/blog/adamsjackson
Her book, This Is What It Smells Like, can be purchased online at:
http://www.barnesandnoble.com/w/this-is-what-it-smells-like-cathy-adams/1109940133
http://www.amazon.com/This-What-Smells-Cathy-Adams-ebook/dp/B009AWATZA
Our March Featured Author – Cathy Adams