Looking for an Indie Editor: Helpful Information for Writers Seeking an Editor for the First Time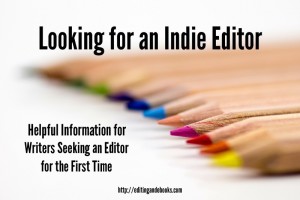 As a first-time writer, the prospect of choosing an indie editor may seem daunting. With a little information about the editing choices available and a little insight into independent editors, this process can be a whole let painful than it may seem like at first.
Editing in the self-publishing industry is all about choice. The writer, not the editor, decides how much editing that he or she can afford, feels comfortable with, and believes will help improve the piece. There are numerous options available to meet those needs and preferences.
Some such options include:
A manuscript critique to address the overall piece, its plot, dialogue, pacing, flow, logic, voice, perspective, characterization, and more
Content editing to look at syntax and flow, grammar, word choice, believability of dialogue, and the more subtle nuances of clarity and conciseness
Basic editing to adjust grammar, spelling, punctuation, typos, word choice, and large issues with syntax
Copy Editing to address simply punctuation, spelling, typos, and basic grammar
While an editor may suggest one form of editing over another, the choice of editing ultimately falls to the writer. Having a choice in the editing process has several benefits for writers. For one, writers can opt for editing within their budget. Indie authors now have a huge array of editors to choose from with a wide selection of prices. This means that pieces that normally may not have been edited due to budgetary restraints may now receive at least some editing. Most importantly, the writer has control over what path the editing takes, thus removing the worry of an editor changing the storyline of a piece without the permission of the writer.
At the same time, there are some downsides to this new world of editing. For instance, the writer may opt for a lower-priced editing option because of budgetary restraints when a more thorough form of editing may really be needed. While any editing is better than none at all, the piece may not be as strong as it would have been had more thorough editing been completed. There is also a big difference between affordable editing and cheap editing. If an editor offer to edit 50,000 words for $15, to make this low price worth the editor's time, the editor is probably not going to spend a lot of time on the job.
As an independent writer, you have more say-so in your writing than ever before. Whichever editing option you choose, be sure to find out what is included in the price offered and consider how each form of editing might benefit your piece. After all, quality editing can help your piece go from good to great.
Looking for an Indie Editor