We are excited to announce that It's About Living, the 2014 Durham Editing and E-books Memoir Anthology is now available in print and digital edition.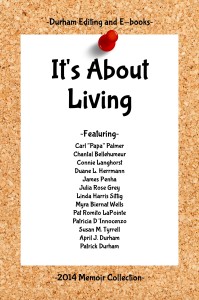 You can grab a free copy on Smashwords now through October 5, 2014.
https://www.smashwords.com/books/view/477466
Promotional price: $0.00
Coupon Code: VR93H
Expires: October 5, 2014
You can also find a print edition on Createspace:
https://www.createspace.com/5005286
If you prefer Amazon,, the book is available in Kindle format now, and the print version will be available within the week.
http://www.amazon.com/dp/B00NOEGKEE
You can also check out the great book trailer on YouTube for this collection.
Thanks for all your support for the great authors that made this collection possible!