Our featured author for March is Linda Harris Sittig.  Linda has published stories with us in Summer Shorts: Airing out Secrets and also in Leaves of Change. She has also published non-fiction text, newspaper columns, and national newsletters. Linda also has a historical novel ready for future publication. Her strong passion for, and background in, women's history makes her an excellent choice for March, Women's History Month. Linda's writing is heartfelt, close-to-the-cuff, and captures the realism of the everyday trials that make up womanhood.
Linda was born in New York City and raised in northern New Jersey before being lured to study in Lausanne, Switzerland. She returned to the United States, earning a B.A. in History and M. Ed. in Reading.
Linda's initial reading inspirations were Lad, a Dog and the mysteries of Nancy Drew, Girl Detective. Her passion for history, stories, and the need for literacy led her to publish commentaries on how parents could encourage the love of reading with their children. That led to a 20-year weekly newspaper column, "KinderBooks" (Loudoun Times-Mirror); a non-fiction text, New Kid in School (Teachers College Press); and writing for a nationally syndicated educational newsletter, The Connection (PSK Associates).  Twice recognized by the Virginia Press Association, she holds two Certificates of Merit for journalism.
Her articles have appeared in The Washington Post, The Reston Connection, and The Purcellville Gazette, in addition to numerous professional journals. In 2005 she launched her own staff development company, KINDERBOOKS, LLC, helping teachers implement the best practices of literacy instruction.
Currently seeking an agent for her novel, Cut From Strong Cloth, Linda is paying tribute to an ancestor who in 1860 Philadelphia struggled to become a successful textile she-merchant; while jealousy, deceit, and prejudice threatened her very existence.
Linda lives in Purcellville, Virginia, where, she says, "the Blue Ridge Mountains are the first to greet the dawn."
We spoke with Linda about her longtime loves of reading and writing, her strong yearning to relate the tales of unsung women heroes, and how a story about a nonexistent dog can be an inspiration to all writers.
When did you first start writing?
I started writing in elementary school but became discouraged when a teacher challenged me on a story about our family dog – because we didn't own a dog.  It took years before I wrote for public reading again.
Where did you grow up, and how did it influence your writing?
I was born in Manhattan, but we moved out to the northern New Jersey suburbs when I was five.  My parents were voracious readers, and my father would take us to see where real authors had lived. I still remember standing at the edge of the lane where Albert Payson Terhune lived. He was the author of Lad, a Dog.
Where do you write? Describe this area for us.
I am quite fortunate to have an entire room all to myself for my writing. I compose on a laptop which sits on an antique library table that my husband found for me.  The room is surrounded by book cases stacked with all my research and travel materials, and on the top of the bookcases are objects that keep me inspired – like an old miners' canary cage which will appear in my next novel.  Looking out the window, I can gaze on the town library across the block from our house and make the wish that someday all my books will be there.
When you aren't writing, how do you spend your time?
I love to travel and am usually ready to plan a trip at the drop of a hat. During the week I take a yoga class, and I belong to both a Readers Group and a local Writers Group.
What inspires you to get out of bed each morning?
When I open my eyes, the first thing I say is, "Thank you, God for giving me another wonderful day of life."  Then I start thinking about my writing – really! Even before my first cup of coffee.
What are your five favorite books, and why?
I have been a sucker for historical novels ever since I turned 12 and was able to move from the children's library up to the adult library where I discovered Ana Seton. She was an incredible historical fiction writer, and, by the time I graduated from college, I had read everything she wrote.  I guess I am still drawn to historical novels because they combine my two favorite passions: history and travel.
What is the best writing advice you can give another writer?
Study how you can improve your writing, network with other writers for support, and never give up – even if a teacher tells you that you must own a dog in order to write about one.
What are you working on next?
I am in the process of trying to get my historical novel, Cut from Strong Cloth, picked up by a literary agent.  In addition, I just sent off an essay on obtaining personal freedoms to a small press, and I am working on my monthly blog, www.strongwomeninhistory.wordpress.com. April will mark the beginning of my third year of writing the blog! I highlight women who made a significant contribution to making this world a better place, but perhaps did not receive all the accolades they deserved. I feel it is a privilege to highlight their accomplishments. This month (March) is on Elizabeth Kenny, an Australian woman whose unorthodox techniques in the 1940s helped many children with polio be able to walk again – but because she was not an accredited nurse she was not revered by the medical establishment. I love her even more because eventually her techniques became the basis for today's rehabilitation in physical therapy.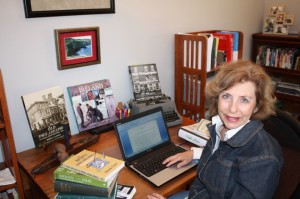 You can find out more about Linda and her works at the following links:
Website: www.LindaSittig.com
Twitter: @LHSittig
Facebook: Linda Harris Sittig
Blog: www.strongwomeninhistory.com
Linda Harris Sittig: Our March Featured Author