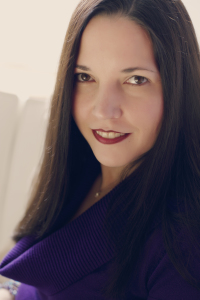 Hailing from Minneapolis, Minnesota, our Featured Author for this month is multi-genre writer Lisa Andres. Never imagining she'd be an author, Andres has published several works of both non-fiction and fiction. After a prophetic dream one night told her to write a book, Andres has realized her love of writing and being an author. Her work includes the non-fiction books Gifted – A Guide for Mediums, Psychics & Intuitives; Indigo Warrior – A Guide for Indigo Adults & The Parents of Indigo Children; and The Dream – How I Self-Published & What I've Learned Along the Way. Andres has also published the fictional works Dubicki's and Guarded Heart (Dubicki's #2) under the pen name of Gabriella Scott.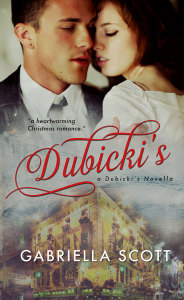 We had a chance to catch up with Andres, and she shared her insights on writing, her influences, and her work as a psychic medium.
When did you first start writing?
I started writing my first novel when I was 14 which I didn't complete. My writing later evolved into songwriting when I was younger and had dreams of being a rock star. By the time I self-published Gifted, I had been asked by several people to write a book about psychic mediums and even had a dream telling me to write it.
Where did you grow up, and how did it influence your writing?
I grew up in the suburbs of Minneapolis, Minnesota. I was an only child of a single parent; my parents were divorced before I could consciously remember them together. I think the boredom I faced with more alone time than if I'd have had siblings drove my desire to read and write.
Who has had the biggest influence on your writing?
For non-fiction: Doreen Virtue. Her books have inspired me in many ways. For fiction (romance): Nora Roberts, among many. Karen Marie Moning's Fever series has inspired me enough to say that I want to write something like that when I grow up.
How does your work as a psychic medium influence your writing?
It's helped me to help others with my non-fiction books and intrigued me into thinking that perhaps I should try to write a paranormal romance at some point.

When you aren't writing, how do you spend your time?
I spent my younger years aspiring for a record deal, and that later evolved into singing and playing keyboards in a cover band. Now I'm happy to have my weekends free again, but I still like to go out and watch music when I can. I also volunteer with a local pet shelter. I have adopted pets over the years, which has inspired me to do more to help homeless pets.
What inspires you to get out of bed each morning?
I've recently decided I'm going to adopt a child. I'm not sure exactly how or when I'm going to do that yet, but the thought that I will finally be a mother after years of wanting a child is an exciting thought that keeps me going.
What are your five favorite books, and why?
Memoirs of a Geisha by Arthur Golden: I read this long before the movie was made, and the book was so well written it made me consider visiting Japan when it was over, something I'd never considered before that. To this day, I will not see the movie because that book holds a special place in my heart, and I want to keep my own memories of it intact.
Darkfever by Karen Marie Moning: I bought this book before the advent of e-books. It sat on my shelf for months before I picked it up, and I remember almost putting it down after the first chapter because I didn't initially like the main character. I'm glad I stuck with it. It's one of the best books and series that I've ever read.
The Winter Lodge by Susan Wiggs: I have no idea why I liked this book so much. Romance is my favorite genre and what I like to write the most. I think this book just inspired me because I connected to the main character so much, and it continues to inspire me as an author.
Angel Numbers 101 by Doreen Virtue: This is a handy little book or smart phone app that tells you the meaning behind repetitive number sequences that you see.
Journey of Souls by Dr. Michael Newton: This book is a fascinating study of souls, soul groups, and past lives.
What is the best writing advice you can give another writer?
Take your time and know it doesn't have to be perfect. No matter how long it takes, the book will get finished and get to your readers.
What are you working on next?
In 2015, my current plans are to put out a second edition of my book Gifted – A Guide for Mediums, Psychics & Intuitives with an added chapter, then to translate it into Spanish and put out an audiobook. For new works, I'm focusing on fiction in 2015. I'm going to take my time writing my first paranormal romance under my pen name Gabriella Scott.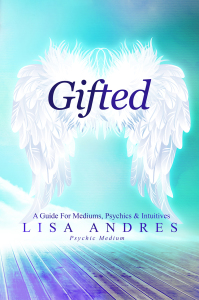 You can find out more about Lisa Andres by visiting her website: http://www.lisaandres.com
Our January Featured Author- Lisa Andres