After three years in the e-publishing world, we know one thing for certain: everyone has to start somewhere. While this seems pretty straightforward, it doesn't make it any less bewildering to those just starting out. Entering the world of e-publishing can be scary and overwhelming, and the ins and outs can feel more like learning a new language than learning additional skills. The good news is that this doesn't have to be your experience. With a little help and guidance, e-publishing can become the rewarding and exciting experience that you deserve as a writer.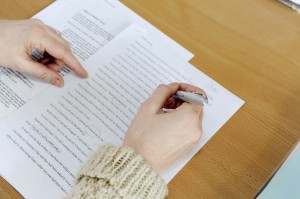 The first thing to keep in mind is that you do not have to write 50,000 words to get started. These days, authors can publish short stories (750-5000 words) and flash fiction (500-1000 words), so you don't have to wait until you have written a novel to get started. Even small (or large) collections of poetry, short stories, or a combination of both can be helpful in getting your voice out there into the fray.
The next thing you need to do is to revise and edit your work. This means that you need to read the piece, reread it, adjust it, touch it up, polish it, and be sure it shines. While some writers feel fine editing their own work, it is always a good idea to let someone else (who has good grammar and writing skills to offer) to go over your work. While some writers do not think they can afford editing, this isn't always the case. Shorter pieces cost less to edit, and the return of having a second set of eyes going over your piece truly outweighs the option of publishing a book that isn't ready for readers. A great story can't go anywhere if no one can piece together what you are trying to say in a sea of typos and grammar mistakes. Everyone makes them, and so everyone needs someone else to take a look at the piece. Be it a neighbor or teacher or a hired editor you can build a relationship with, an editor is something that every writer needs.
The next step in entering the e-publishing world is choosing which site you would like to use to publish your story. As far as self-publishing, there are numerous sites that offer this type of service at no fee to set-up or sell, although they do take a portion of royalties. This means they do take a percentage of the sale price once the book (or e-book) sales, but they do not charge you upfront. Our suggestion is to always visit each site and check out the pluses and minuses and how they apply to you. Take some time and consider whether or not you feel comfortable moving forward on your own or whether or not you might prefer someone else to do the technical stuff for you. You will also want to take a look at the pros and cons of publishing with each site.
The four easiest and most popular sites to use are Smashwords, Amazon, Apple, and Barnes and Noble. There are pluses and minuses about using each site, and the easiest way to discover these is to create your own free account and take a look for yourself. These sites want you to use them to get your book out there, so they will help you as much as they can to get things up and running. Amazon, Smashwords, and Barnes and Noble offer free guides to help you format your story to their specifications. While these are not necessarily the easiest guides to follow and every site has different rules and requirements, they are a starting place. There are also plenty of companies like ours that offer these formatting services for a reasonable fee.
One thing to consider when making the decision on which site to use is to look at the broad scope and see which site might help you the most. While Amazon offers some marketing help if you choose their Kindle Select program, they also do not allow you to publish elsewhere for three months (or longer if you do not un-enroll at the end of the three months). Smashwords, on the other hand, offer a very wide distribution if your book makes their Premium Selection, including Barnes and Noble, Apple, Kobo, Diesel, Sony, Flipkart, Oyster, Baker and Taylor, and Scribd. They also offer a "pre-release" program that helps you promote your book as a pre-release sale before it comes available. The problem with this is that you need to understand a little about marketing to use this to your full advantage. You can also use a combination of both which will help you with marketing, but that is something to save for later.
Another thing to consider as a self-publisher is whether or not you would like to have print books, as well. Createspace is a great place to publish your book in print. With Createspace, you do not have to pay to upload your book or for them to sell the book. Again, they do take a portion of each sell as payment. The best things about Createspace is that you do not have to purchase a bulk of print books upfront and fork out a lot of money right at the start. Books are printed only as they are ordered, by you or shoppers on Amazon or any other company that chooses to sell your book. That way it cuts costs for you dramatically.
With print-on-demand, whether through Createspace or other sites such as Lightning Source or Lulu, you will need to have your book formatted for print. You can do this on your own or hire someone to do this for you. We also offer this service at a reasonable price, as well as other companies online. Even Createspace offers this service, though their price is substantially higher than ours or most other independent services. You can even do this formatting on your own if you feel comfortable using some of the more advanced features of Microsoft Word or Adobe InDesign.
The last thing to consider is a cover. While covers are truly important, there are a few options available. Amazon and Createspace have form covers you can use if you do not feel comfortable creating your own cover or cannot afford to hire someone to do it for you. You can also hire someone to create a cover for you, with many covers costing as little as $35 or $45 dollars (this is the price range ours start at). Any way you choose (stock cover from the site, creating your own, or buying one), be sure that the cover fits your needs. No one knows these but you, and, in the end, self-publishing is a personal journey. If you need a cover to attract sells, spend a little money on it. If you only want to publish for family and friends, sometimes a stock cover will do just fine.
If we can be of help along the way, please let us know. We offer editing, formatting, and cover design, and we would be happy to help you as you move forward in your e-publishing journey. Hopefully this article will help you get started. It is a good bit of information, but don't get overwhelmed. Take it a little at a time, and stay positive. We're here if you need us.
Helpful Links:
Smashwords: http://www/smashwords.com
Amazon: https://authorcentral.amazon.com/gp/landing
Barnes and Noble: https://www.nookpress.com/login
Apple: http://www.apple.com/ibooks-author/
Getting Started in E-Publishing