This month Durham Editing and E-books is happy to showcase Hardy Jones as our December Featured Author. Hardy is a skilled storyteller and gifted writer from Lawton, Oklahoma. He is an Associate Professor of English and the Director of Creative Writing at Cameron University, as well as co-founder and Executive Editor for Cybersoleil and Flash Fiction editor for Sugar Mule. He is a member of the Association of Writers and Writing Programs, Phi Sigma Iota, Popular/American Culture Association, and the South Central Modern Languages Association.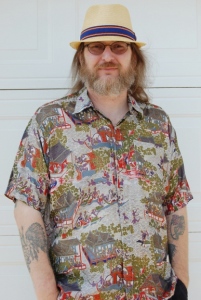 Hardy's writing has been published in numerous anthologies and journals, and we had the pleasure of working with him on the anthology Summer Shorts II in which his short story "Grandmother's Coconut Tree" was featured. His short story "A New Bike for Little Mike" and personal essay "Dry Gumbo" were both nominated for the Pushcart Prize in 2014. He held the Charles and Edythe Holmes Endowed Lectureship in English from 2010-2014. He also received grants from the State of Louisiana Division of Arts Folklife Program and the State of Louisiana Division of the Arts for two of his nonfiction projects, "Laotian New Year and Its Traditions" and People of the Good God. His novel Every Bitter Thing was released in 2010, and People of the Good God is slated for release in February of 2015.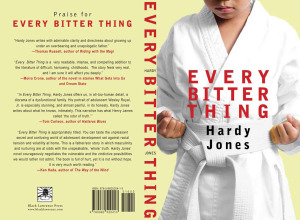 We had the pleasure of catching up with Hardy this month to talk with him about writing, the art of storytelling, and family.
When did you first start writing?
As a kid, I dreamed of being a rock star and dabbled with song lyrics. In high school and the first couple of years in college, I wrote poetry—very bad poetry. A writing tutor looked at my poetry and pointed out how it read like truncated stories, which placed me on the prose path. In 1995, I declared English as my major and began writing in earnest, working exclusively on short stories, and the main comment my professors gave me was that my stories read like stifled novels. In the MFA program at the University of Memphis, a professor, Randall Kenan, encouraged me to use my family's stories and personal experiences to create novels. Using that advice, I completed my novel Every Bitter Thing. My interest in family history has led me to write personal essays and a forthcoming memoir, People of the Good God, which details the evolution of Cajun culture into the new millennium and inquiry into my ethnic and cultural identity.
Where did you grow up, and how did it influence your writing?
I grew up on the Gulf Coast in the Florida panhandle, south Alabama, and south Louisiana. My father was a Texan and my mother is a Cajun, and both cultures place great value on oral storytelling, so I was raised with family history and stories the way other children are raised with Mother Goose fairy tales.
What has had the biggest influence on your writing?
My father was a cross-country truck-driver for 25 years, and he retired just before my birth, which meant he was at home and daily regaled me with stories of his work and travel experiences. He was born in 1917, was a WWII veteran, and lived to 1991, so his stories created an interest in history as well as in storytelling.
Where do you write? Describe this area for us.
I write primarily in my dining room. We have a large, square dining table, which is next to a large window that looks out on the Wichita Mountain range. I love the natural light the window provides, and being from the coast, having the mountains, however small they may be, gives me a lovely view.
When you aren't writing, how do you spend your time?
I run, read, travel, spend time with my wife the Thai author Natthinee Khot-asa Jones, and our dog Gumbo. We live in Oklahoma and enjoy spending summers at our house in Thailand.
What inspires you to get out of bed each morning?
The possibility of creating and improving. A writer's life can be filled with trying moments, but one positive is that each day I have the opportunity to improve my craft.
What are your five favorite books, and why?
Paring down my favorite books to five is a challenge, and the books listed are not in any certain order. I love the Brazilian author Jorge Amado and his novel Dona Flor and Her Two Husbands. I am in awe of how his prose blends erudition with bawdy humor. Next is the nonfiction author Joseph Mitchell's Up in the Old Hotel, which is a compilation of all of his essays and books. I appreciate his ability to write about marginalized peoples and not make them into caricature. Third is Andre Dubus' Collected Stories. I am impressed with the humanity his characters possess. I bought his Collected Stories not long after I decided to become a writer, and I read the book repeatedly. Plus, some of his stories are set in Louisiana, so his settings were often familiar. Familiarity is what intrigued me about the fourth book: Bobbie Ann Mason's Shiloh and Other Stories. Reading her stories about working-class Southerners and country folk showed me that literature could be populated by people and places I knew. Fifth is T. Coraghessan Boyle's novel World's End, which is the book that convinced me to be a writer. His comedic approaches to history and storytelling grabbed me as a twenty-something pondering the possibility of being a writer. By the time I finished World's End, I had decided to major in English and threw myself into writing.
What is the best writing advice you can give another writer?
No matter how intimidating a blank screen can be, remember that a story or memoir needs two primary elements: characters and tension. If you have an interesting character facing obstacles, you have a good chance of holding the reader's attention. Do not be overly concerned with plot; instead, focus on one word after another until they create a sentence, and then the sentences create paragraphs. Do not be afraid to place words on a page, even if you know as you are typing that these words will not be the ones that will eventually be in the story.
What are you working on now?
I am currently working with Natthinee Khot-asa Jones translating her memoir Wal-Mart Girl from Thai (it was published in Thailand in 2008) to English. An excerpt, "My Talking Dic," is forthcoming in Red Truck Review in January 2015. The memoir details the two years that Natthinee worked at a Wal-Mart store in Lafayette, LA while I was a doctoral candidate at the University of Louisiana at Lafayette. The book demonstrates cultural and linguistic differences between Thailand and America. For example, the excerpt "My Talking Dic" centers around how in Thai they shorten the word "dictionary" to "dic," and when Natthinee used the shortened form at work, her co-workers found it hilarious. We hope that the memoir will be entertaining as well as shed light on the differences between what a worker faces in Thailand compared to America. Wal-Mart falls under a lot of criticism, and one thing the memoir emphasizes is that Natthinee wanted to work there for two reasons: as an immigrant, what better place to be immersed in everyday American culture; and in Thailand employers do not hire the elderly or handicapped, so when as a shopper Natthinee saw such workers at Wal-Mart, it impressed her that a company would give everyone an opportunity. The memoir, we believe, provides a balanced depiction of Wal-Mart—not all good, not all bad. Moreover, since it is a memoir, the book provides a more human look at the store and how it treats its employees.
You can find out more about Hardy Jones by connecting with him at:
Website: http://www.hardyjoneswriting.com
Twitter: http://twitter.com/HardyJonesWrite
You may also want to check out the online journals Hardy Jones works with:
Cybersoleil: http://www.cybersoleiljournal.com
Sugar Mule: http://www.sugarmule.com/index2.htm
Our December Featured Author Hardy Jones