The Crazy World of Indie Editing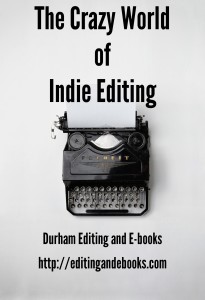 Indie editing is an ever-growing, constantly evolving world of words. As the independent publishing world braces for its predicted lull in 2015, editors are working harder and pulling out all the stops to attract new clients and hang on to the ones they have. Here at Durham Editing and E-books, we've decided to weather the changes by holding on to our most basic, fundamental belief: treat each author the way we would want to be treated.

In this fast-moving, money-based world, common courtesy is rapidly becoming a thing of the past. Oftentimes emails go unanswered, and the replies that do come are curt messages that seem like they were written by a person who would rather stab themselves with their pencil than answer your questions. Once services are rendered, all support is withdrawn, and you are left feeling alone, overwhelmed, and—mainly—unsatisfied.

Here at Durham Editing and E-books, that's just not how we do business. We believe in building an open, honest, and supportive relationship with every writer we work with—no matter how large or how small. We've been newbies in the independent publishing world, and we know how overwhelming it can be. That's why we started this company: to offer top-quality affordable services and support. That's the biggest difference: SUPPORT.

Can't figure out how to upload to Createspace? We'll walk you through it.

Can't understand why the last page of your e-book won't show up on B&N's previewer? We'll format the book to override it for you.

Just can't get through the differences between Kindle Select and Kindle Direct? We will explain things as best we can, and if that is not enough, we will offer you as many resources as we can find to help you.

Whether you're a first-time author or a seasoned pro, we are here to help YOU. You will never be alone on your writing journey with us.

So, as you try to find an editor who is just right for you, we hope that you will consider Durham Editing and E-books. We'll be here to help you navigate all the crazy ins and outs of self-publishing, searching for an agent, or just trying to find a way to perfect that book you've always wanted to write.

If you would like to find out what our writers have to say about working with us, please check out this page:
http://editingandebooks.com/recommendations/
Durham Editing and E-books is here to meet all of your writing needs. Best wishes on your writing journey and may the Lord bless you as you seek to share your story with the world.
The Crazy World of Indie Editing