Aspiring to Inspire
In honor of Women's History Month (March, 2014), Durham Editing and E-books will be compiling an anthology of works by women authors. We will be accepting poetry, short stories, personal/narrative essays, and memoirs written by women writers.  There is no set theme for this collection. We are seeking great pieces by great women. We know each writer has a story, and we would like to share the works of women in the independent publishing world. We accept pieces from writers of all experience levels.
Our goal is to help independent authors increase their audiences. We have found that one of the best ways to reach new readers is to work with other independent writers. Our aim is to compile a collection that will appeal to a wide variety of readers. To do this, we ask that pieces not contain or describe any obscene, vulgar, offensive, profane, provocative or otherwise inappropriate material. They should also not defame, libel, or slander any person or entity. Stories must be original to the person submitting the piece and should not violate the rights of any other person or company.  Last year, we released four very successful anthologies of works written by independent authors. This collection of women writers will be our fifth anthology.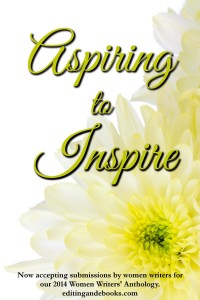 Submission Guidelines:
Deadline is February 28, 2014 at 11:59 p.m. EST.
This particular collection is only for women writers.
There is no set theme for this collection. If you have pieces concerning inspiration or women, please feel free to include them in your submissions. This is not a requirement. We are looking for exceptional writing by women authors.
Each author may submit up to five pieces total.
Poetry, prose, personal/narrative essays, and memoirs by women writers will be considered. (Fiction and nonfiction accepted.) Please include each submission in a separate document (file name: YOUR NAME-Piece title).
Stories should ideally be in the 500-8,000 words range.  Each poem or essay should be less than 8 pages long. These lengths are an estimate. If you have an awesome short story that is 10,000 words long, we will be happy to consider it.
Each author will also contribute a short bio for the collection. We ask that bios not exceed 250 words. Please include this bio in a separate document along with your submission (file name: YOUR NAME-Bio).
Each author needs to include a written answer to the following: What woman has inspired you the most in your life? Explain how this person is an inspiration to you and why you find her inspiring. Please also include how you hope to inspire others. Answers should be 100-1000 words. Please include this in a separate document along with your submission (file name: YOUR NAME-Guiding Question).
Each author may include up to four links to social media or websites where readers may connect with her in the future. Please do not include email addresses. Please include these in a separate document with your submission (file name: YOUR NAME-Social Media).
All submissions may be sent in one email. In the email, please include your name and a little about you. Please also include any information that might be helpful in understanding your pieces (i.e. background on the selection if applicable).
Each submission must include the following acknowledgement and agreement to the terms and conditions of publication in this collection. Please copy and paste and fill out completely.
2014 Aspiring to Inspire Women Writer's Anthology
Author's Full Name:
E-mail Address:
Submission Title:
By typing my name below, I accept the terms of agreement for submission to/inclusion in the Durham Editing and E-books 2014 Aspiring to Inspire Anthology. I also certify that I am 18 years of age or older.
(Type Name Here)
Terms of Agreement: All contributors must be 18 years of age or older. Contributors may submit original work only. If plagiarism is found, submissions will be excluded and original authors will be notified if applicable. Furthermore, Durham Editing and E-books and all other contributors will be in no way implicated or involved in the plagiaristic act. Submission to or acceptance of individual or multiple submissions implicates absolutely no financial agreement between participants and Durham Editing and E-books. Submission to or publication in the Durham Editing and E-books 2014 Aspiring to Inspire Anthology does not establish or precede a publishing contract between this company and any participants. By submitting written works for consideration, authors grant Durham Editing and E-books one-time rights to publish any submitted written work, About the Author information, submitted social media/website links, and answers to any questions requiring written responses asked as part of the submission process in the 2014 Durham Editing and E-books Aspiring to Inspire Anthology in the digital/print/audio versions of the 2014 Aspiring to Inspire Anthology.  Author retains all official rights to submissions and may submit/print/publish/distribute submitted pieces in any way they choose outside this collection. All entries may be proofread or edited for clarity and any/all spelling or grammatical errors corrected, unless such errors were deliberate on the part of the author. No cash or material prizes are rewarded for submissions. There is no charge for submission, and no purchase is required. Electronic copies will be offered free of charge via coupon codes to an online e-book vendor at various times throughout the year, and coupon codes may be awarded as prizes during future contests and promotions. Contributing authors may share these codes with their friends, family, and social media followers. Generally these coupon codes are made available through Smashwords.com. Print books will also be available for purchase. All accepted entries may be used in promotional purposes related specifically to and limited by the 2014 Durham Editing and E-books Aspiring to Inspire Anthology.
We look forward to working with you! Please submit all submissions via email to aspiringtoinspire@editingandebooks.com.
Aspiring to Inspire: Our Upcoming Women Writers Anthology