Are you looking for a great present for the writer in your life?
We've got the deal for you!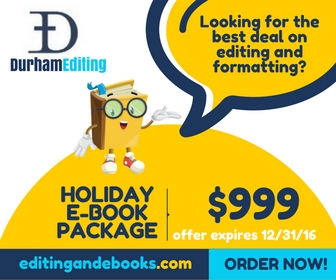 Purchase our 2016 Holiday E-Book Package before December 31, 2016 and use it anytime before December 31, 2017.
Here's what you get for $999:
Complete editing for up to 75,000 words
E-book formatting for Amazon Kindle Direct
Print book formatting for Createspace
Once you purchase the package, you can schedule a time from January 1, 2017 to December 31, 2017 to use your package.
No refunds or exchanges. No cash back for services not used. Offer valid only when purchased by December 31, 2016 at 11:59 PM EST. Package is for novels and nonfiction work up to 75,000 words and is not discounted for works that have a smaller word count. Please see our other options for a better price for smaller novels or nonfiction work. Works longer than 75,000 words are eligible to receive the discounted per word rate for words over the 75,000 word count.
While we strive for error-proof work, we are not perfect and do not claim to be. We promise to work to our best ability on each work that we complete. Purchasing our services does not guarantee that your work will receive good reviews, sell copies, or be picked up by a publisher. All of those things depend on circumstances outside our control.
2016 Holiday E-book Package