We are proud to announce the release of Wrapped Up In Ribbon: Stories and Poems of the Christmas Season!
Embrace the season, and enjoy this unforgettable anthology of Christmas tales and verse written by an eclectic group of writers from across North America. These stirring stories and poems explore life, love, and the gifts of Christmas. Sometimes the best presents do not come wrapped up in pretty ribbon and bows. Sometimes the very best presents are kind words or deeds. Sometimes they are merely a feeling. Join these talented writers as they explore the wonders of Christmas and share with you the memory of their most memorable Christmas present. This delightful Christmas collection features the talents of Patricia D'Innocenzo, Laurie Sages, Jennifer Beattie Hulehan, Kathleen Schmitt, Rebecca Poole, Julia Rose Grey, Barbara H. Poole, Pamela Blair, R. L. Mitchell, April J. Durham, and Patrick Durham.
Find this collection in digital edition on Amazon and Smashwords. This week the collection will be free via Smashwords.com with the coupon code below.
Amazon Kindle Version:
http://www.amazon.com/dp/B00GUZH3HW
Smashwords Digital Editions:
https://www.smashwords.com/books/view/380696
Smashwords Promotional price: $0.00
Smashwords Coupon Code: DZ53F
Coupon Expires: December 1, 2013
You may also purchase a trade paperback edition via Createspace for only $5.99.
https://www.createspace.com/4538674
Happy Reading!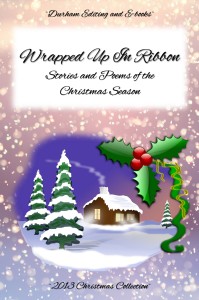 Wrapped Up In Ribbon Release