Hip, hip, hooray! Aspiring to Inspire is available in both e-book and print editions. You can purchase an e-book edition on Smashwords.com, Amazon, Kobo, Deisel, Apple iStore, Barnes and Noble, Page Foundry, Baker and Taylor Blio, Flipkart, Oyster, and Scribd. You can also get a print edition in trade paperback on Createspace. Once the print book is available on Amazon, you can get the e-book for free with purchase of a print edition. The e-book is regularly $2.99, and the paperback is regularly $8.99.
Amazon: http://www.amazon.com/Aspiring-Inspire-Durham-Editing-E-books-ebook/dp/B00J3C41YW/
Smashwords: https://www.smashwords.com/books/view/420499
Createspace:https://tsw.createspace.com/title/4721882
Aspiring to Inspire has already reached the #1 Bestseller on Smashwords Women Writers' Literary Collections Bestsellers' List. Way to go, ladies!
Join us for the official launch party on Saturday, March 22, 2014, at 7 p.m. EDT on our Facebook Event Page. We will be giving away coupon codes for free copies of the anthology, chatting with the authords from the collection, and playing trivia to win FREE prizes! Don't miss out!
Facebook Launch Party Event Page: https://www.facebook.com/events/653850121317187/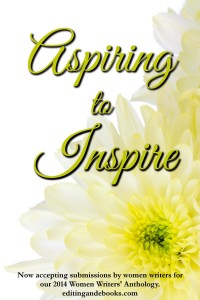 Aspiring to Inspire Release and Launch Party